Thatchatham Silsupan (Ph.D.)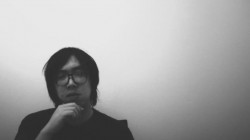 Thatchatham Silsupan is a lecturer in sonic arts and sound studies at Department of Media Arts and Design,Faculty of Fine Arts, Chiang Mai University. He holds a PhD in music composition with emphasis in technology from University of California at Berkeley, and a bachelor's degree in music from National University of Singapore.
Initially trained as a classical composer, Thatchatham subsequently shifted his interest towards sonic works that go beyond the classical concert setup, a.k.a. music in the expanded field. Many of his works, regardless of form, advocate sounds which are typically overlooked in the traditional sonic paradigm of beauty. Recently, he is interested in the concepts of metamorphosis, hybridity, monstrosity, and critical narratives of aesthetics found in digital media, technology, and culture; and often based his practice on the principle of local-specificity.
Thatchatham has received numerous grants for residencies and commissions, including at Harvard University, the Darmstadt Internationale Ferienkurse für Neue Musik, the International Academy of Moscow Contemporary Music Ensemble, the Goethe Institute's Asian Composers Showcase, the Hong Kong Young Composer Program, the Manila Composers Lab, and the Ensemble TIMF Academy. In addition, his music has also been performed at the Berkeley New Music Project (Berkeley), Asian Music Festival (Yokohama), XXVII "Sound Ways" International New Music Festival (St. Petersburg), Tongyeong International New Music Festival (Tongyeong), Beijing Modern Music Festival (China), SoundBridge (Kuala Lumpur), YCMF (Yogyakarta), TICF (Bangkok); and by ensembles such as ECO Ensemble, Talea Ensemble, Ensemble Mosaik, MCME, Ensemble TIMF, Asian Festival Ensemble, HKNME, TNUA Chamber Ensemble, and Tacet(i).
E-mail : thatchatham.big@gmail.com
---
---